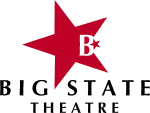 Sixteen Types of Happiness
Murray and Shelagh are a deliriously happy couple. But Murray has a nagging worry - that the world is trying to take away his happiness. He catalogues the good things in life and resorts to manic attempts to save his smiles before they get away. The makers of the darkly comic Hitting Dennis and the frantic Spaghetti Weston-Super-Mare return with a comedy that takes on the big questions and comes up with at least sixteen answers. A highly energetic and inventive show packed with delightfully recognisable characters and a ridiculous amount of luggage.

Sixteen Types of Happiness was devised by the company and directed by Andy Burden of the Rondo Theatre, Bath.

"Comic imagination and sharp performance are hard to come by and Big State have plenty of both." Venue magazine, Bristol.
"Superb timing and control……. immensely enjoyable"
The Wiltshire Times
---
Big State Theatre
Arc Theatre
College Road
Trowbridge
BA14 0ES
Tel & Fax: 01225 756339
bishmj@wiltscoll.ac.uk

This show will be touring in 2003. Click here for more information.